Veeam FastSCP et le 64bits
On a rencontré une erreur lors de l'utilisation de Veeam FastSCP sur un Windows 2008 R2.
Le problème n'était pas tant l'OS que la plateforme 64bits (R2 obligatoire).
L'erreur qu'on a eu se produisait lors de la tentative toute bête de copie de fichiers/dossiers entre différents datastores (au sein d'un même serveur hôte ou inter-serveurs) :
Retrieving the COM class factory for component with CLSID [5F1555F0-0DBB-47F6-B10B-0AB0E1C1D8CE} failed due to the following error: 800700c1
Erreur pas forcement parlante sur le principe !..
En farfouillant un peu sur le forum de Veeam, on est tombé sur ce post http://www.veeam.com/forums/viewtopic.php?f=4&t=821 qui détaille le même problème, lié à la plateforme 64bits.
Yes, FastSCP provides full support for Windows 2008 R2 and Windows 7. But as per release notes 64bit operating systems support is experimental. So please try running FastSCP on x86 operating systems, that should solve your issues
Pour le coup, si on veut lancer Veeam FastSCP sur Windows 2008 R2, il faut qu'on installe l'OS en 32bits pour que ça fonctionne sans erreur, ça risque d'être délicat !..
Au final, une résolution de cette erreur est la suivante :
Installer Microsoft .NET Framework SDK
Suivant la version du .NET Framework SDK installé, trouver l'exécutable corflags.exe (pour notre part, l'exécutable se trouvait dans C:\Program Files (x86)\Microsoft SDKs\Windows\v7.0A\Bin\NETFX 4.0 Tools)
A la racine du dossier de corflags.exe lancer la commande suivante :
corflags "C:\Program Files (x86)\Veeam\Veeam Backup and FastSCP\VeeamShell.exe" /32BIT+

L'utilitaire corflags.exe permet de configurer la section CorFlags de l'en-tête d'une image exécutable et le paramètre /32BIT+ définit l'indicateur 32BIT à 1.
Ça permet de profiter de Windows 2008 R2, de Veeam FastSCP et du 64bits (tant mieux pour 2008R2) ^^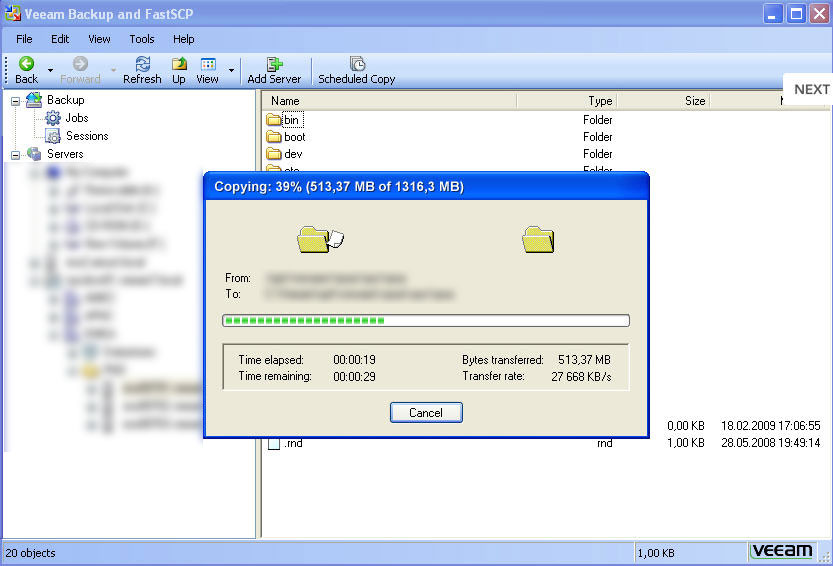 ---