VMworld 2013

Here is our review of VMworld Europe 2013 which took place at Barcelona (again!) from 14th to 17th October 2013. We really wanted to thank John Troyer and Corey Romero as all VMware community for letting us attend to this VMworld!
This is the third VMworld we assist, this time with a slightly different motivation from past year: enjoy this few days of vacation and as always meet a lot of people! This year, sessions are available online again through the website http://www.vmworld.com/community/sessions/2013.
Furthermore, you can now complete Hand-On-Labs online on http://labs.hol.vmware.com/. This is a very good move from VMware, go and take a look, try it !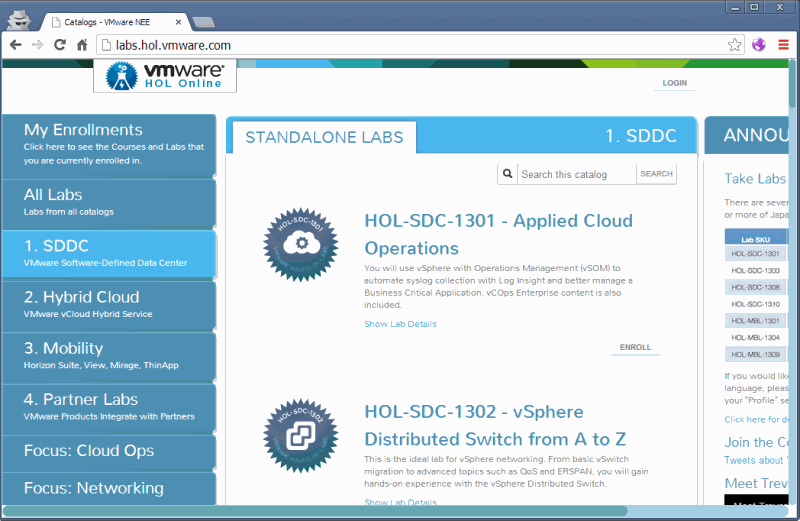 In the nice stuff from this VMworld, we went to see the VMware Time Machine, a kind of timeline with 15 highlights to commemorate the 15th anniversary of VMware (you can find an online version available here) :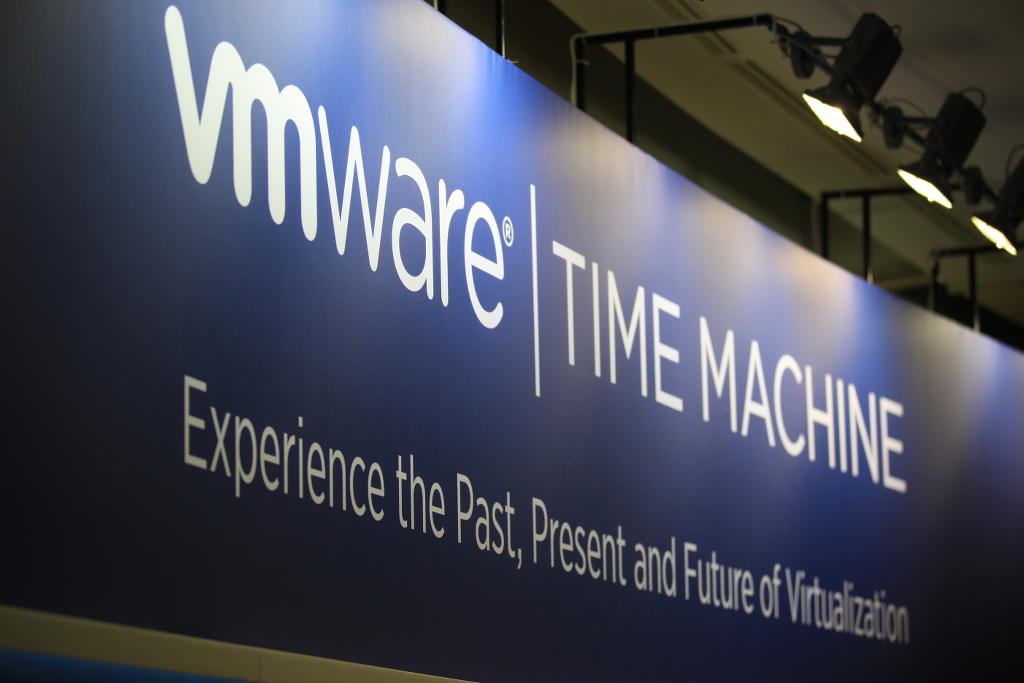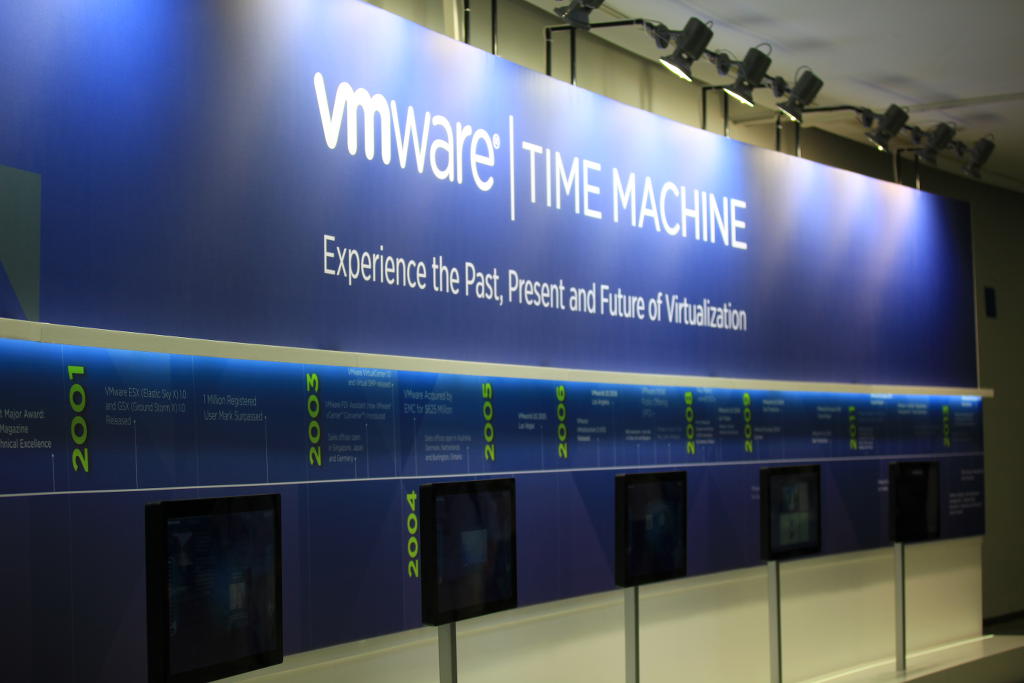 And for those who are still wondering what the ESX or GSX initials meant, here is the answer with a simple image: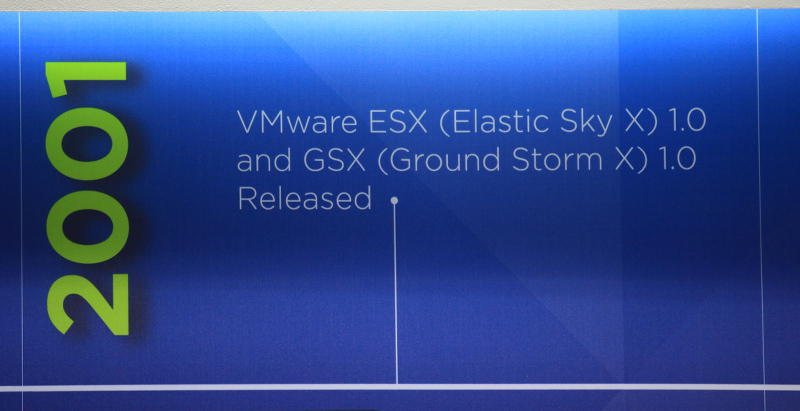 We went to hear the traditional vBrownBag Tech Talk session with William Lam, this year named #NotSupported in which he talks about Tips/Tricks for vSphere 5.5 (the online video is available here) including a long-awaited by many geeks announcement (including us of course), namely VMware Tools for ESXi through a vib file (aka vmtools for nested ESXi) which should be available soon: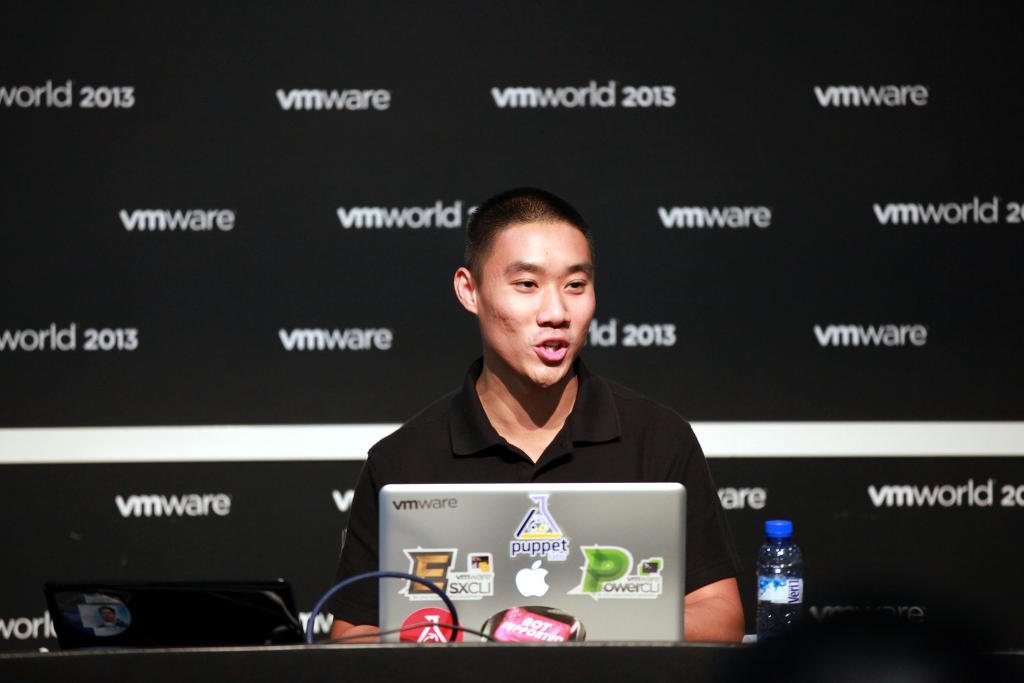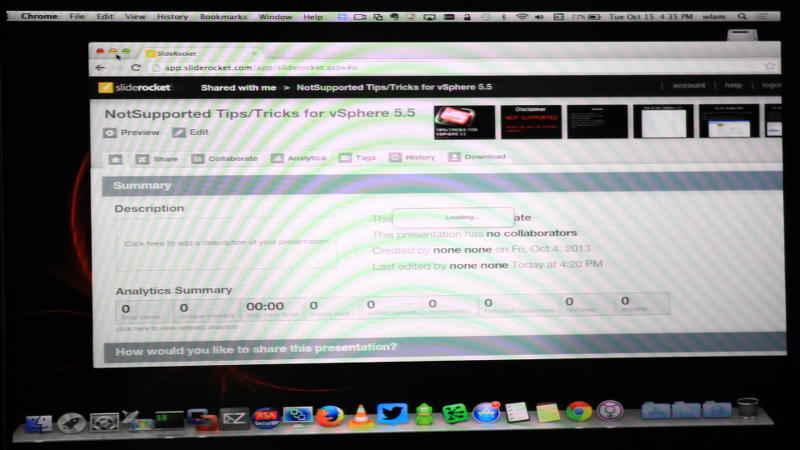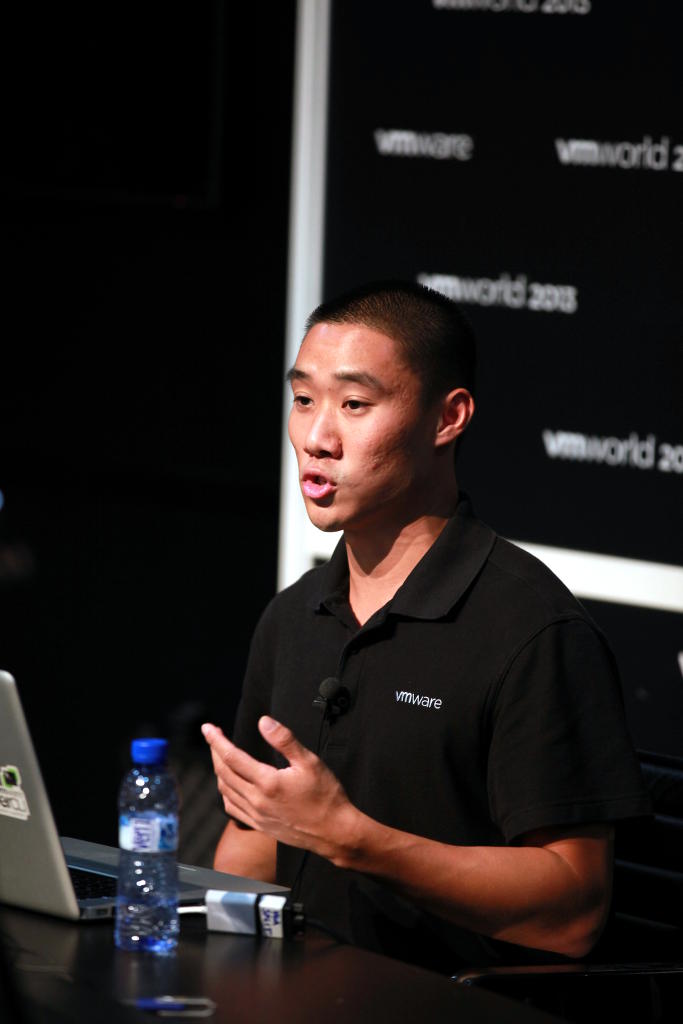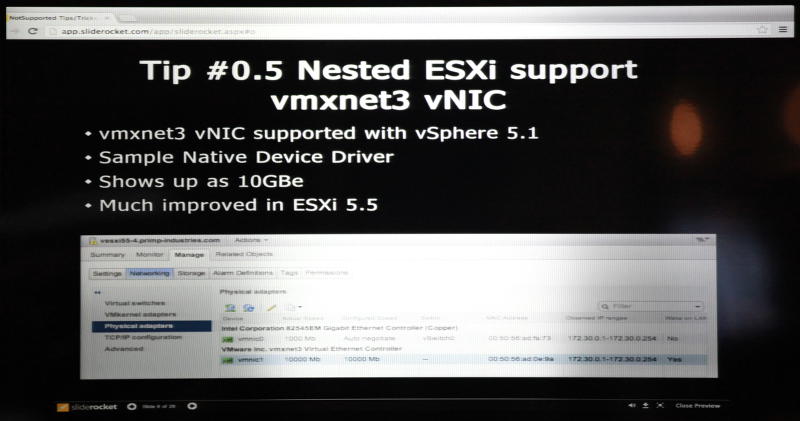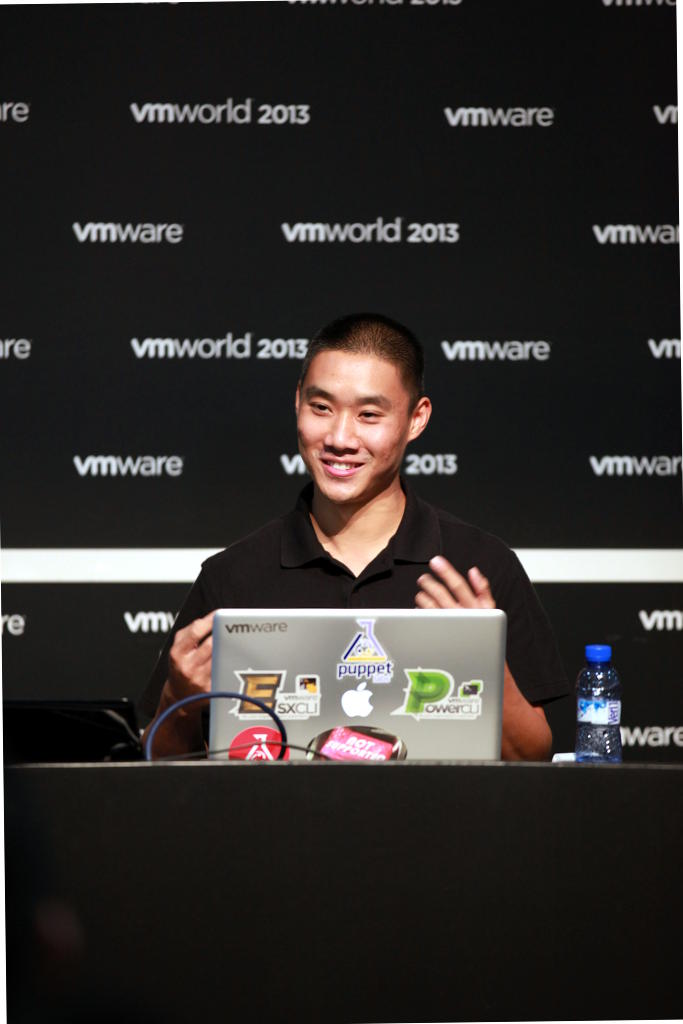 Once the session was over, we were able to have a little chat with William about few subjects (we didn't have much time last year to talk with him, this year we didn't want to miss the chance :p) like the new Native Device Driver architecture of ESXi 5.5 (you can get more information in his post ESXi 5.5 introduces a new Native Device Driver Architecture Part 1).
Meanwhile behind us, Frank Denneman settled for a video interview regarding PernixData (the time for us to take some pictures) :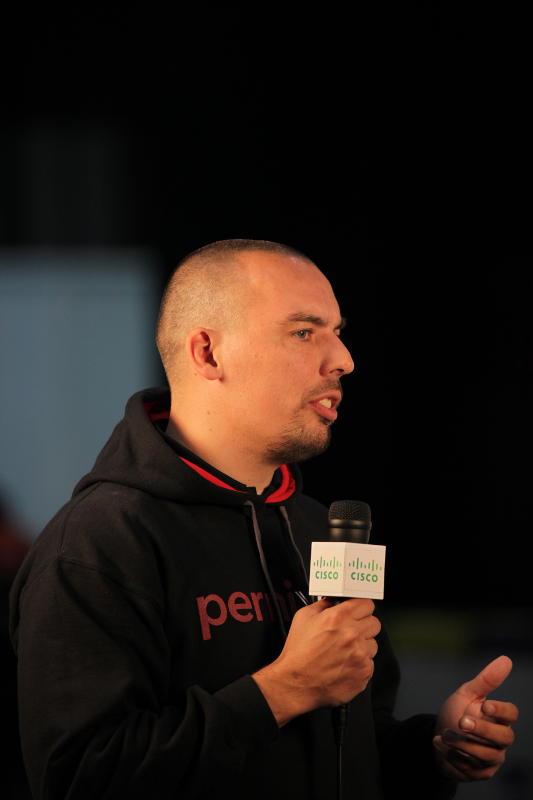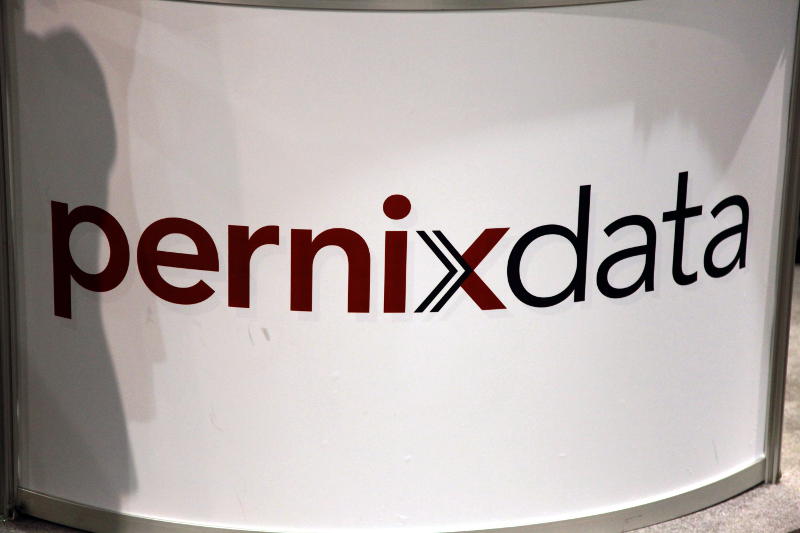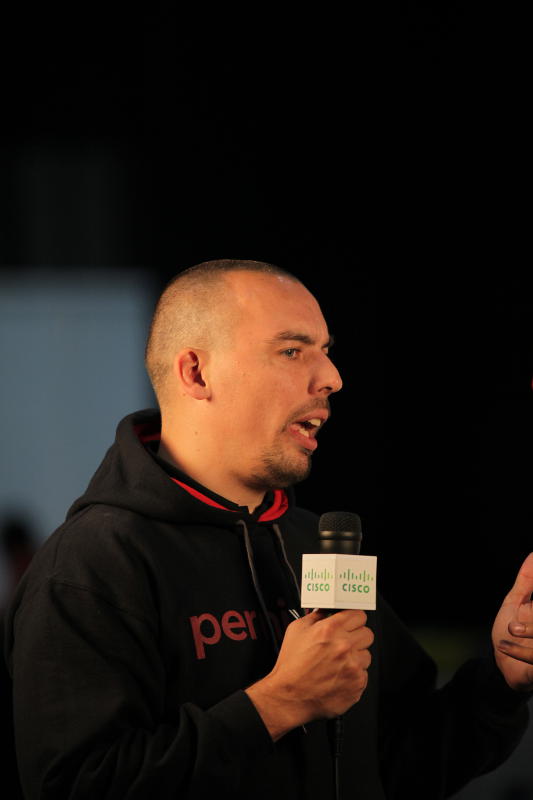 One of the interesting session was the BCO5065 - vSphere Fault Tolerance for Multiprocessor VMs Technical Preview. Besides the very first theoretical part, we were able to see several demos with VM with up to 16 vCPUs, so quite impressive to say the least. However, this is only a Technical Preview, ie no release date is scheduled (NDA required) and especially no additional information could be disclosed (always a NDA problem) ! But the impact on performance is quite disturbing so far (we hoped that the Technical Preview status explains it) as you can see in the 3rd picture: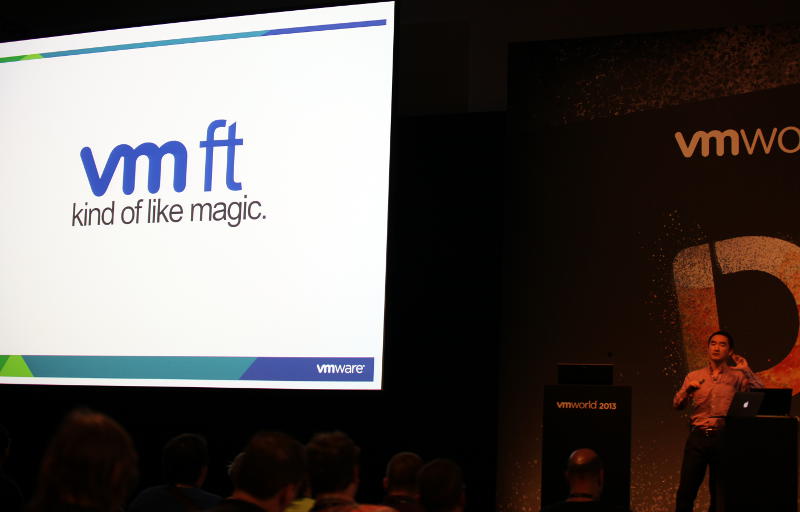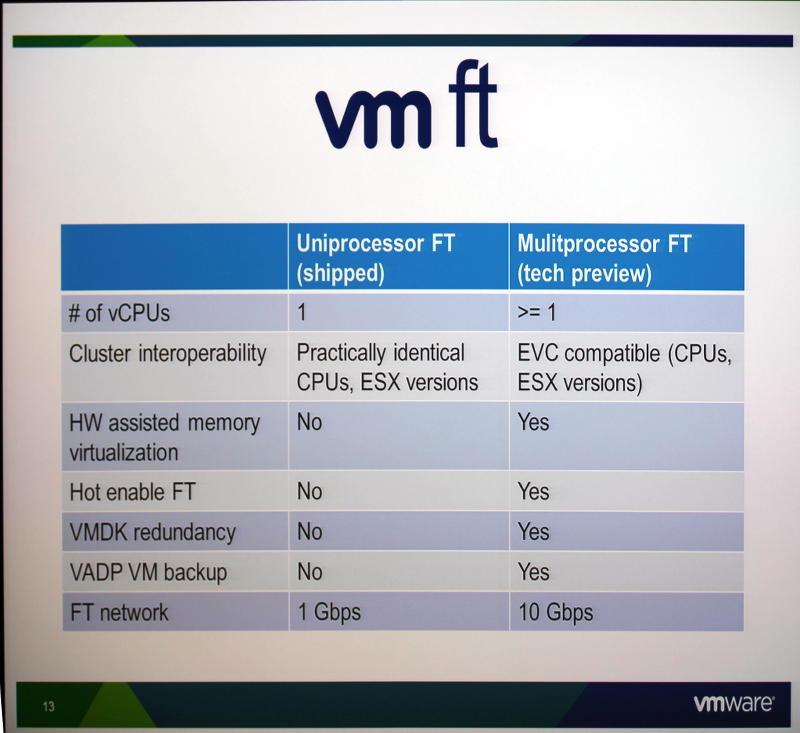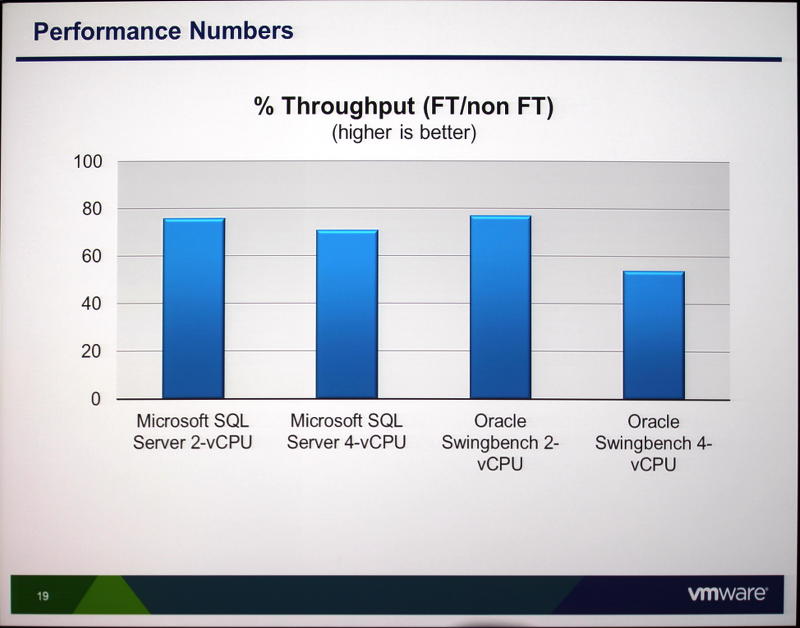 We we also able to took some photos from Justin King (aka vCenter/SSO guy) during session VSVC4830 - vCenter Deep Dive (video available via VMwareTV here) :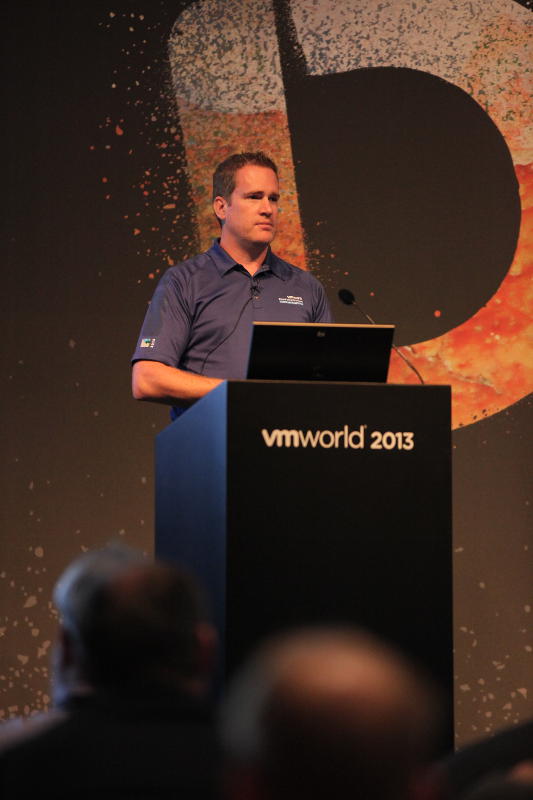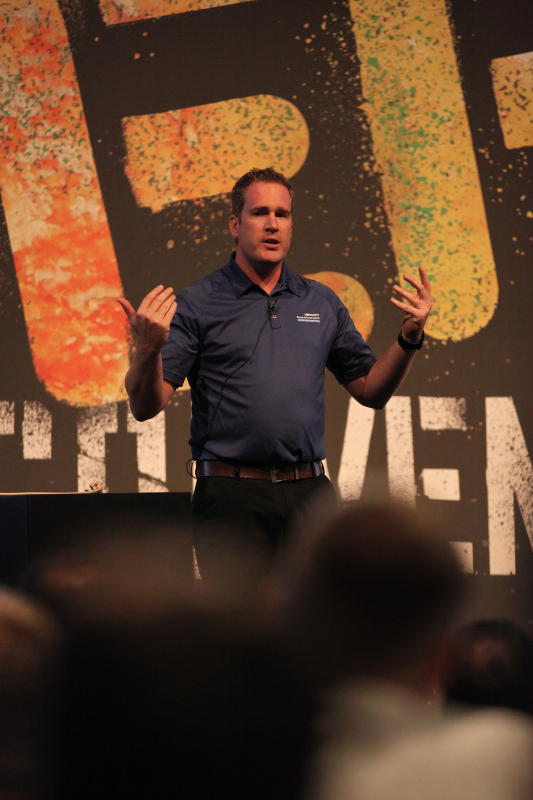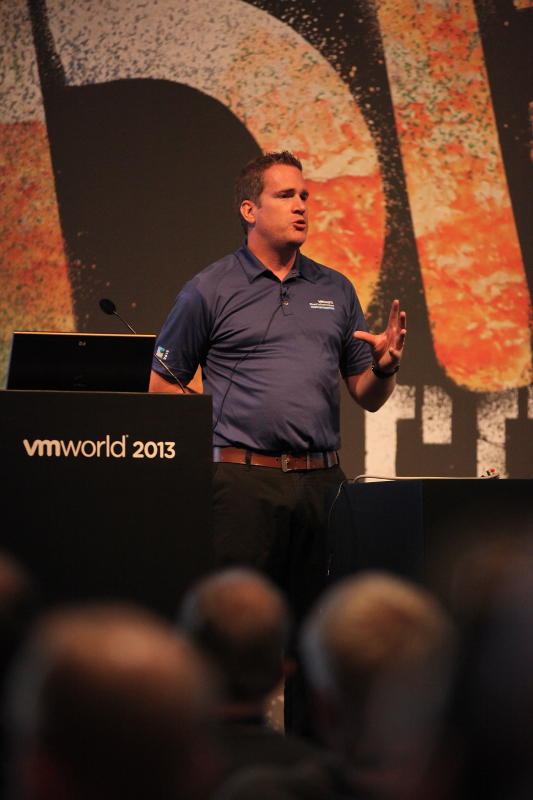 And what would a VMworld be without Alan and Luc session: PowerCLI Best Practices - A Deep Dive during we were able to see the PowerCLI module managing VSAN command and some examples regarding PowerShell Remote Session (further information are available in Luc's great post SiW – Robust Sessions and PowerCLI) :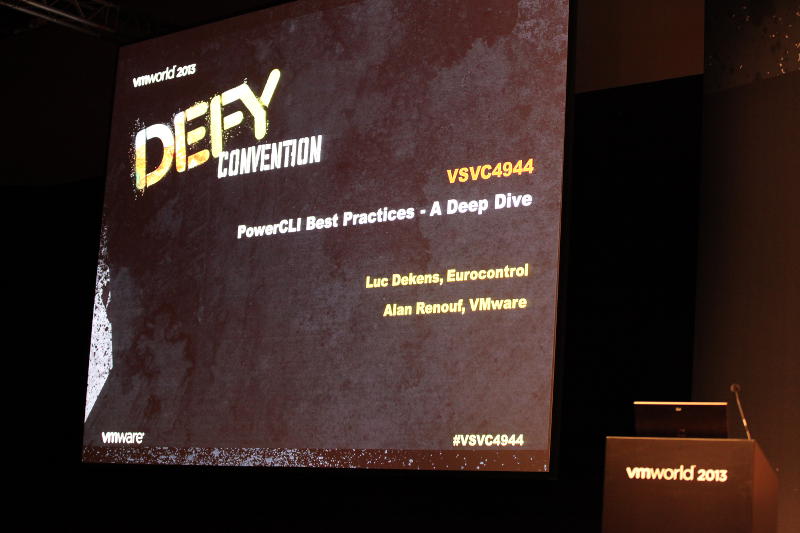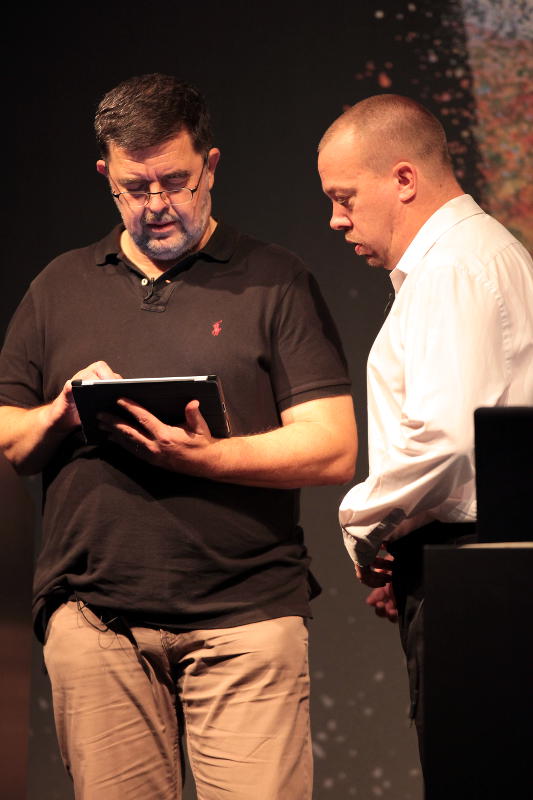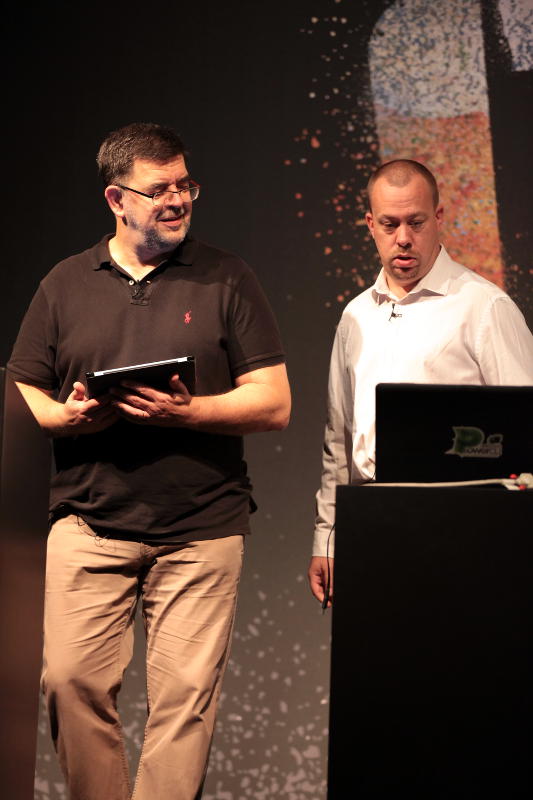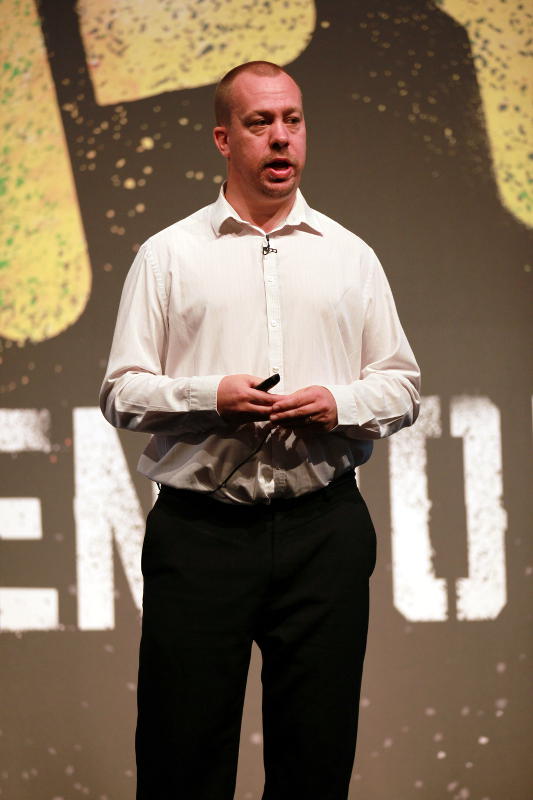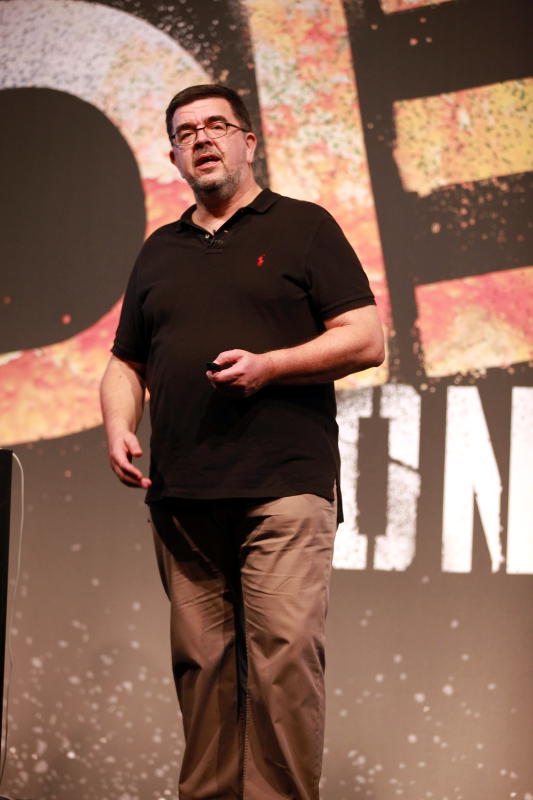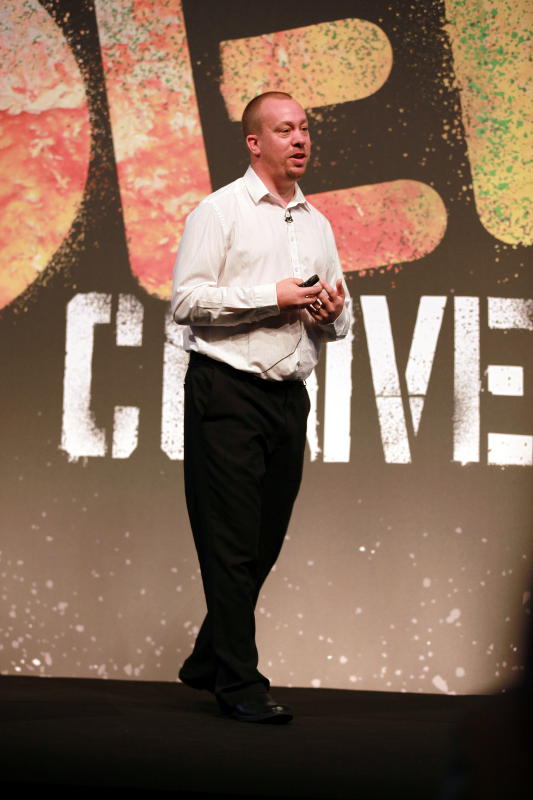 As we were walking through Solution Exchange, we met our friend, Didier Pironet (http://deinoscloud.wordpress.com/) on Bull's booth (for whom he is currently working) and we had a presentation about Bullion server which can support up to 320 cores and 4TB memory, making a nice rack to host Monster Melvin VM (Didier actually wrote very good posts about Bullion's architecture and you can read them on: http://deinoscloud.wordpress.com/2012/10/29/bulls-bcs-architecture-deep-dive-part-1/)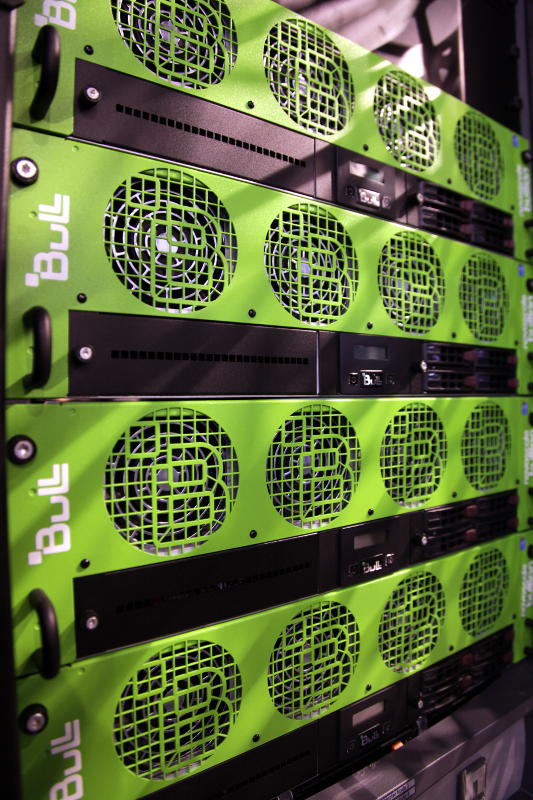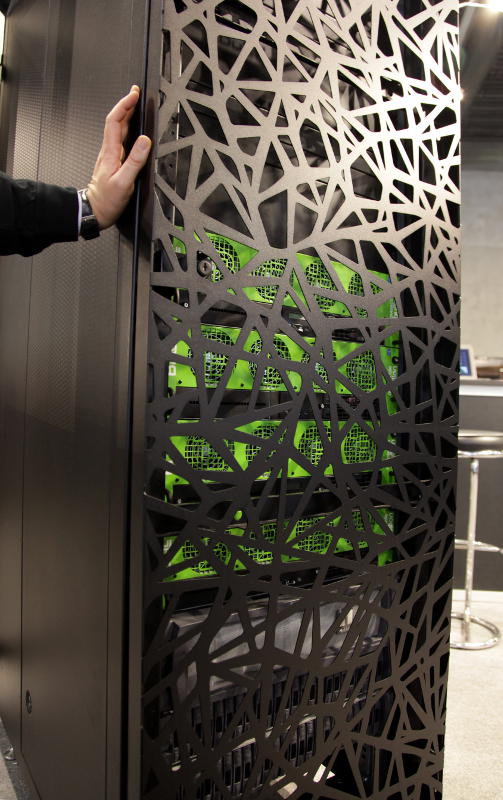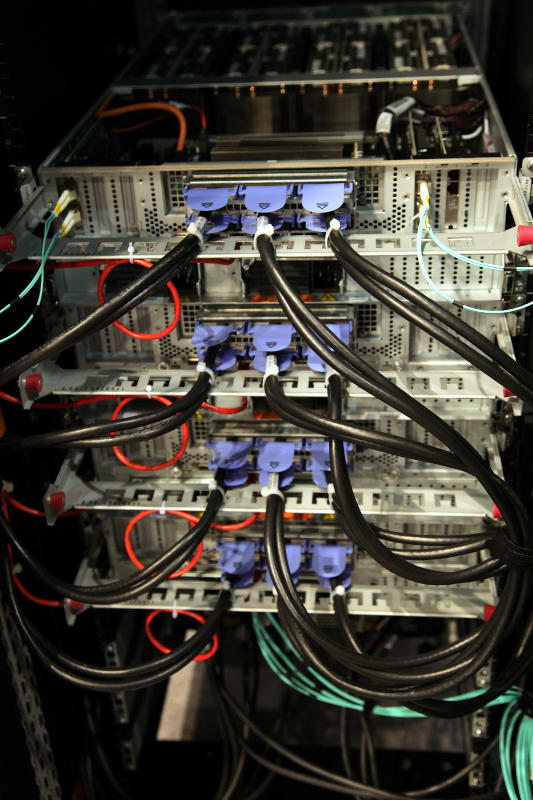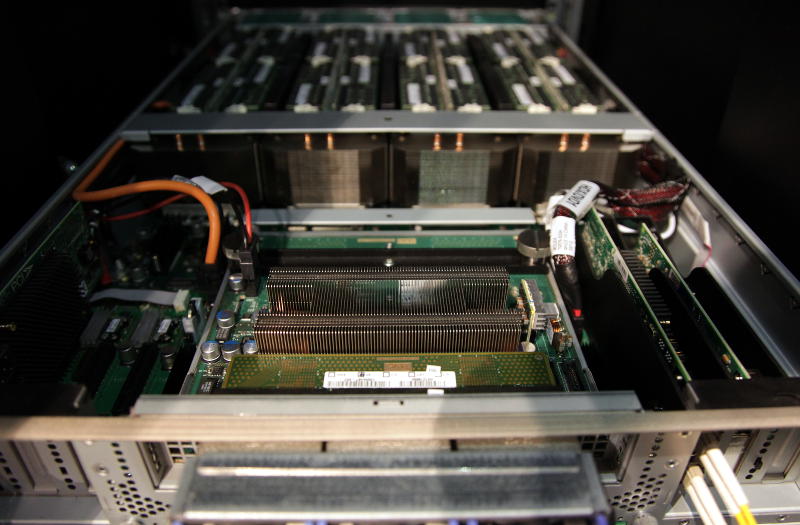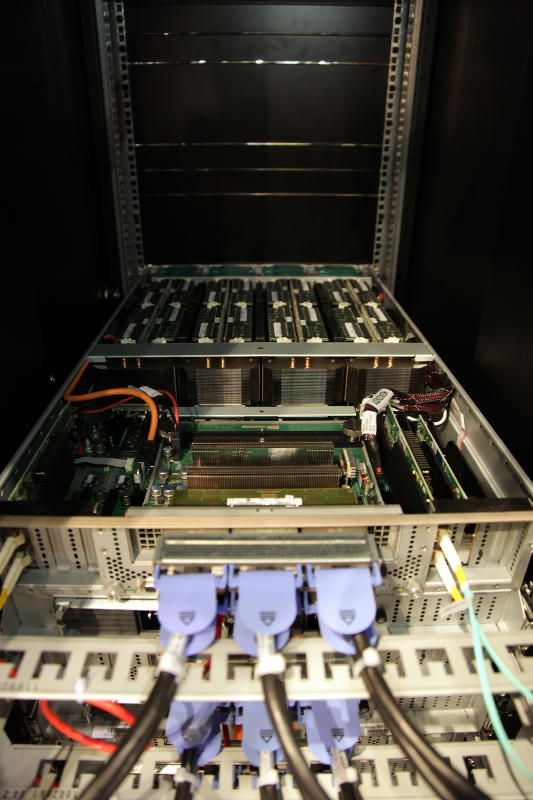 We also stopped by the Dell booth where you could see a tower rack supposed to be silent enough to be under a desk (thus being WAF compliant) named PowerEdge VRTX, consisting of four blades and 25 2.5" SAS disks. Unfortunately, the enclosure was not powered, so we weren't able to check the sound, but given the composition of the fans/air flow, it seemed little problable it will really fit in a living room :p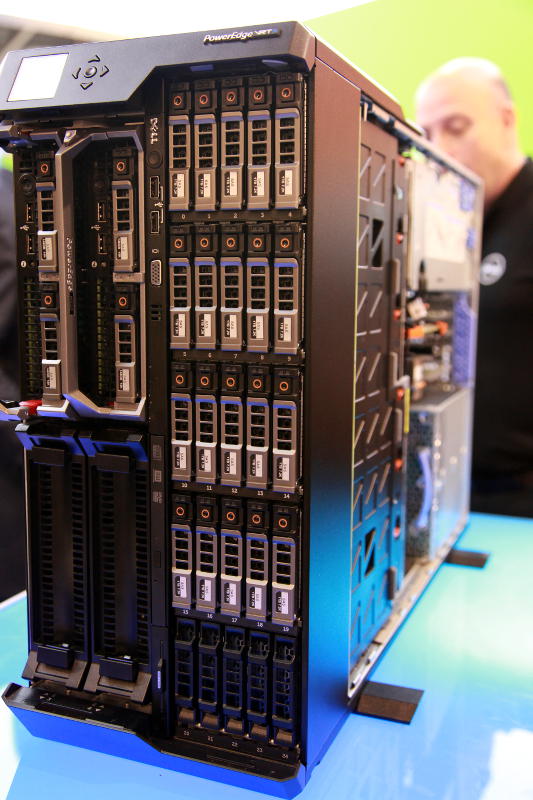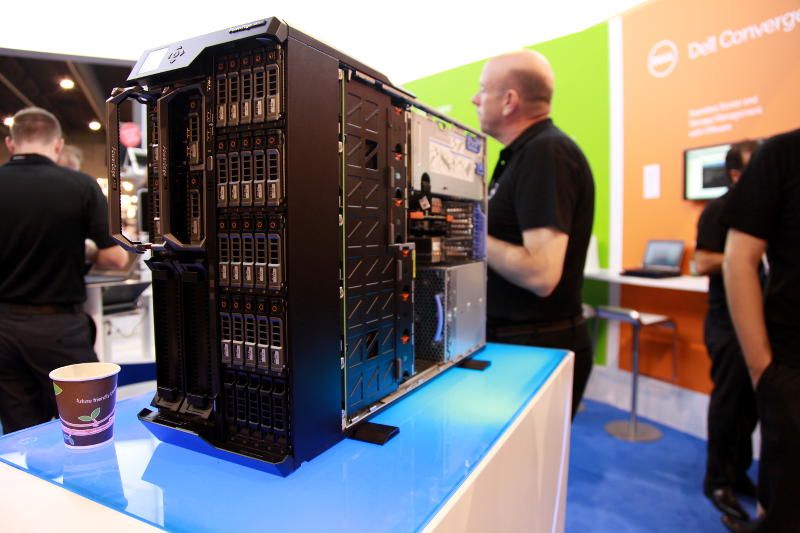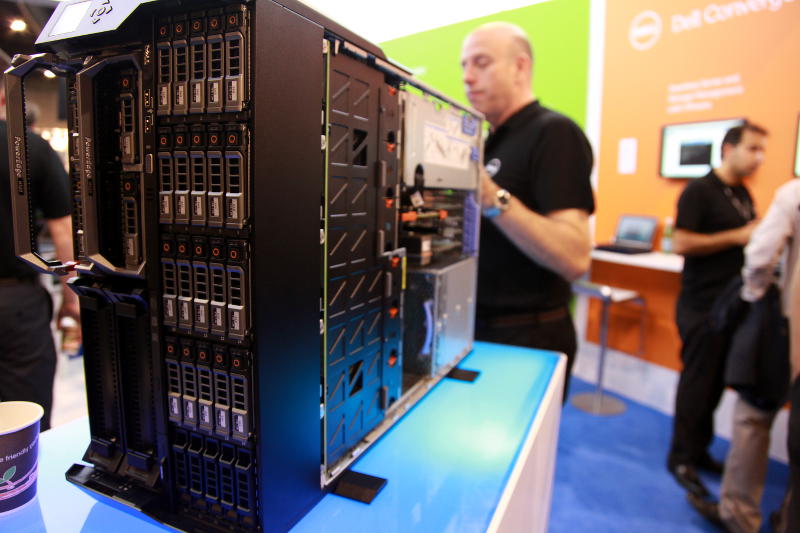 Finally this VMworld 2013 was a good event, and what will be especially remembered this week was the breakfasts lunch taken with Timo and Raphael on Rambla de Catalunya (who said vacation?):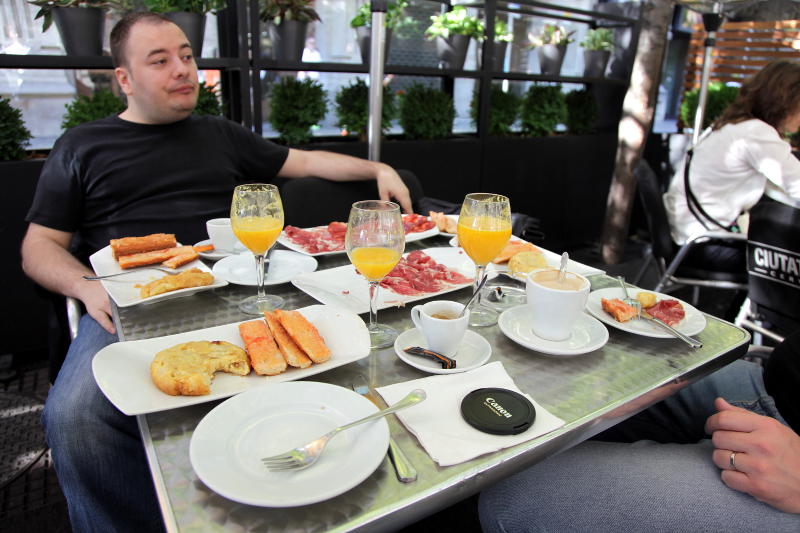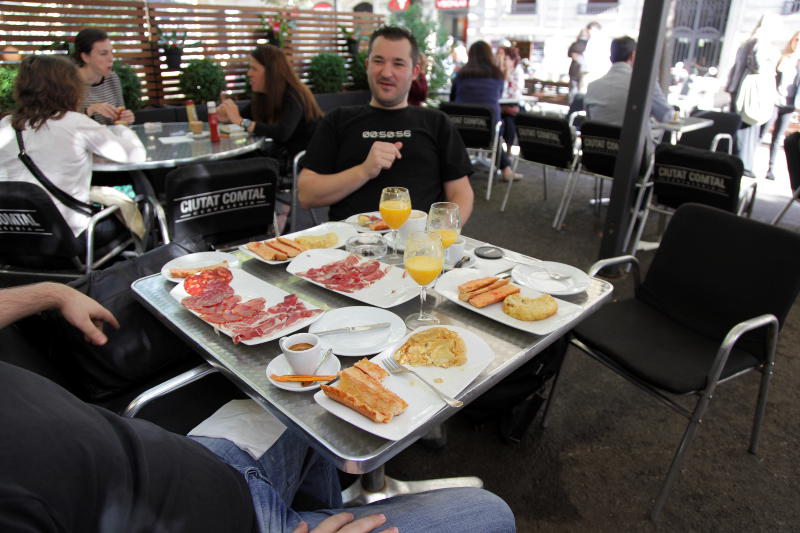 See you next year Barcelona for VMworld Europe 2014 !
---